We offer classes at all levels: from Beginners (A0) to Advanced (C2).
Those participants who have studied Polish will write a placement test which is intended to asses their knowledge of the grammar and vocabulary of the Polish language. On the basis of the test results and after the conversation with the teacher, you will be placed in a group suitable for your language level.
The Council of Europe developed The Common European Framework of Reference for Languages, which differentiates between the following levels:
Common European Reference for Languages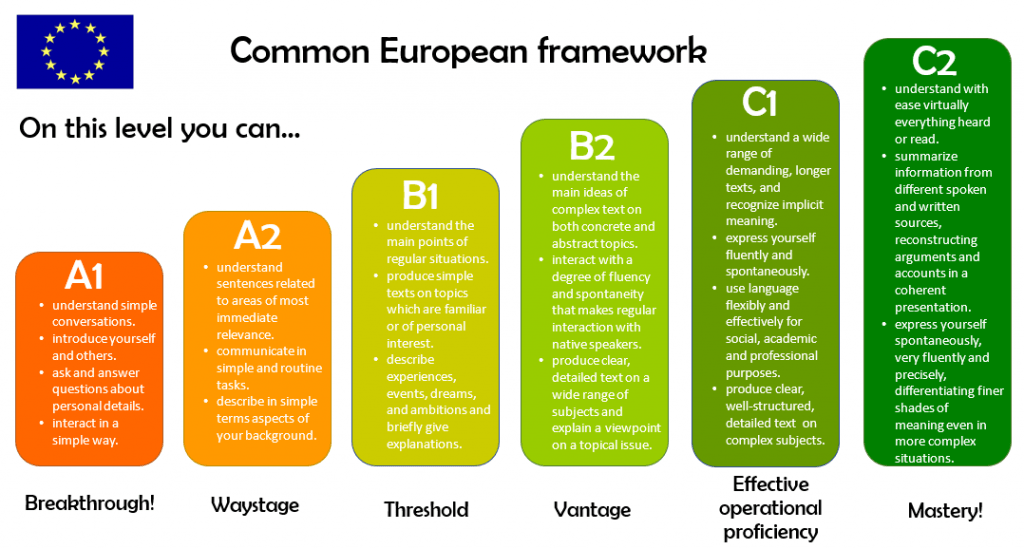 Levels of learning Polish in SVschool Language Center
The system of sublevels
Based on The Common European Framework of Reference for Languages, we've created an even more detailed division of Polish language proficiency levels:
A0 – Starter
A1.1 – Beginner 1
A1.2 – Beginner 2
A2.1 – Pre-intermediate 1
A2.2 – Pre-intermediate 2
B1.1 – Intermediate 1
B1.2 – Intermediate 2
B2.1 – Upper -1ntermediate 1
B2.2 – Upper -1ntermediate 2
C1.1 – Adwanced 1
C1.2 – Adwanced 2
C2.1 – Proficiency 1
C2.2 – Proficiency 2
Each sublevel is one course consisting of 51 ( intensive course) or 60 (semester course) lecture hours.