Levels of learning Polish
The system of sublevels
The Common European Framework(CEFR) divides learners into three broad divisions that can be divided into six levels
For each level, it describes what a learner should be able to do in each skill area: reading, listening, speaking and writing.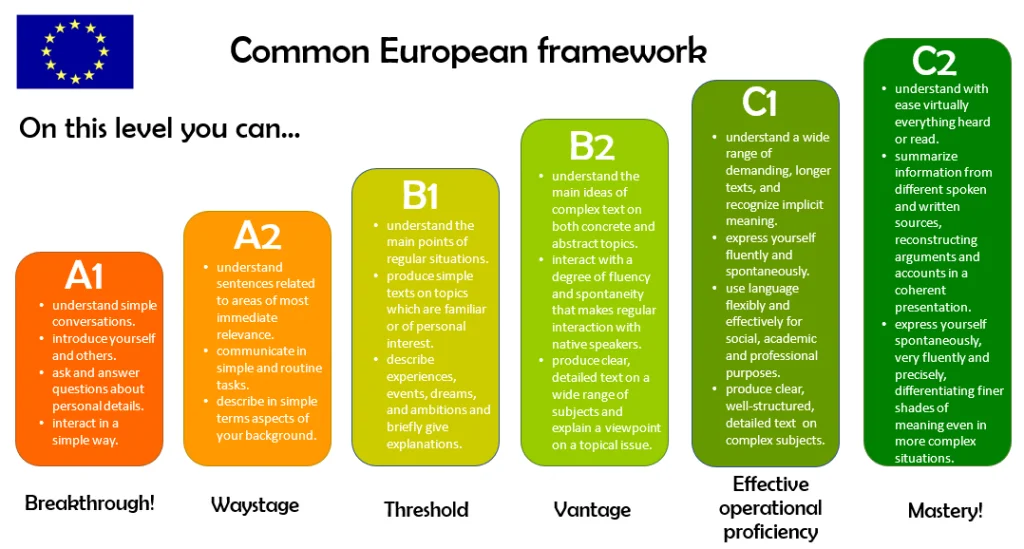 Levels of learning Polish
We design our classes according to The Common European Framework of Reference for Languages (CEFR).
Completing one level takes 3 modules ( 6 months):
Level A1 : Module 1 – A1.1; Module 2 – A1.2; Module 3 – A1.3;
Level A2 : Module 1 – A2.1; Module 2 – A2.2; Module 3 – A2.3;
Level B1 : Module 1 – B1.1; Module 2 – B1.2; Module 3 – B1.3;
Level B2 : Module 1 – B2.1; Module 2 – B2.2; Module 3 – B2.3.
Each sub-level has its own content, learning objectives and an exam at the end.
We will make sure that you start in your exact sub-level of Polish.
You finish the next sub-level within 2 month in a 30 hours (teaching sessions of 45 minutes) for the Standard course.
From zero knowledge of Polish to the B1.1 level of language proficiency, you will need to complete a total of 7 modules in a standard course or 3 modules in an intensive course.
From zero to level B1.1, you will need a total of 14 months of learning in a standard course or 3 months of learning in the intensive course.
Within our Level System to Polish Fluency, you'll finish the B2 level after 12 sub-levels.
HOW TO DETERMINE YOUR LEVEL
Before starting a course with us, those participants who have studied Polish will write a placement test which is intended to assess their knowledge of the grammar and vocabulary of the Polish language.
On the basis of the test results and after the conversation with the teacher, you will be placed in a group suitable for your language level.